Welcome to Falster Farm and a view of our A2A2 milk cows for sale! We are so excited to be meeting you. We can't wait to show you all that we have to offer. Since 1998 Karl and Nancy Falster have been producing excellent Mini and Classic size Hereford cattle and over the years they have expanded and improved on those genetics.
In 2003, Karl learned about how Goat's milk could help offset the pain with his Service Connected Disability from Agent Orange toxification from Viet Nam. Research and hundreds of phone calls lead him (some 10 years later) to the discovery of A2A2 milk cows.
So, in 2013 he purchased his first A2A2 cow, the aged Normande A2A2 cow: PIPERS
PRINCESS. She and her subsequent calf launched the breedings of the A2A2 French Normande and A2A2 Jersey breeds found on Falster Farm today. In 2015 it occurred to him that if the A2A2 Milk Cow was superior in milk production, surly the A2A2 Beef cows would be the same on the beef side.
With Nancy's help on the phone and emails, they made contact with a hobbyist in the Austin area with the same ideations. An informal partnership developed into finding some old lines of Heritage Hereford and Red Angus with the A2A2 β-casein proteins. Falster leased A2A2 bulls, bought imported French frozen semen and Providentially found the Line Bred Red Angus A2A2 cows he so eagerly sought.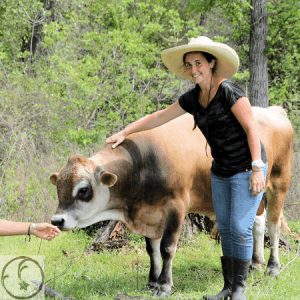 This French Intern illustrates the docile nature of our A2A2 dairy cattle.
Mid Size Cross DIANNA
Our youngest A2A2 Milk cows are the Spring heifers and bulls. Here we see a cross we made of a Pure Bred Jersey with our imported French Normande A2A2 frozen Semen. She is for sale as a virgin heifer – $3,500.
DIANNA:
12/8/17 Spring Heifer of a JERSEY GIRLS raw milk dairy "ANNA 430" x A2A2 French Normande "CAMEMBERT". She is probably A2A2.
3/9/18 Mother died, put on supplements – she is strong on grass, and nursing free choice in the Red Angus herd; Shotzie & Puffy.
_______________________________________________________
Mid Size French Normande A2A2 For Sale $6,000 each
A2A2 French Normande Embryo Transplants (ET) Bulls and Heifers.
Calves were born 12 SEP 17 from embryos carried by recip cows SEF and SHOTZIE. Their Mid Size is proof that the quality and size of the recip cow will have a major influence on the offspring.
_______________________________________________________
Pure Bred Mini Jersey KNF PUFFY BLOWFISH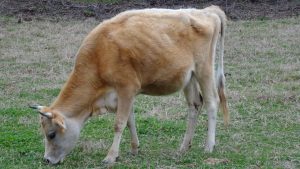 Miniature Jersey Cows just don't get any more feminine looking that our little PUFFY BLOWFISH. She qualifies for the American Miniature Jersey Record Book. However, she is not A2A2.
She is a 1st time mama bred back to the French Normande herd sire HYLASIS, a rare mid sized A2A2 French Bull. Very feminine, halter broke, trained to milk by hand and Surge Milker. Our "Current Notes":
7/27/18 Saw her bulling in the morning, around 17:00 I got time to give her a straw of HYLASIS. Inside, she was very firm and wet, straw went right home.
4/27/18 I have been milking her twice a day followed up by nursing DIANNA. She has responded well to milk training and staking out on the roadside.
4/21/18 Gave her 4ml of Long Range & Multi Min.
_______________________________________________________
Mid Size A2A2 Yearling Bull – ROSCO
NOTES:
9 AUG 2018 – Texas A&M testing reports Homozygous A2A2
30 JUL 18 – 42″ Hip Height, Excellent Scrotum size and displacement.
31 AUG 2017 – Calved no assistance, small head circumference, good vigor. Son of Jersey Girl Jersey Cow. Been in the Near South Pasture since birth. Very friendly.
FOR SALE – $4,000.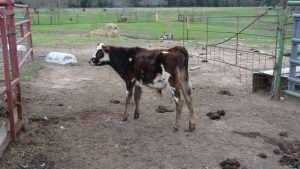 _______________________________________________________
Mid Size A2A2 milk cows for sale –
BREDA – FREDA – PIPER'S PRINCESS
We hope you can see that we have a good selection of A2A2 Cows for Sale.
Please free to call Nancy 903.629.3034 and set an appointment to come see them, and allow us to extend our Southern Hospitality.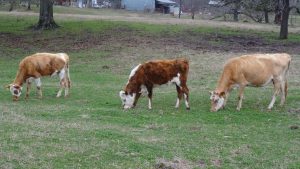 Contact Us
Contact Us
Located mid way between Dallas and Shreveport, some 46 miles North of Tyler, Texas.
2112 County Road 4778, Winnsboro, TX 75494
Gaining Ag Exemption with Mini A2A2 Milk Cows is our Stock and Trade – please come see us, share in our hospitality. Small Family Farm East Texas.