The Who's Who of Amazing Mini Bull Semen & Embryos
Working With Your Cattle – Large and Small
Looking to buy Frozen Mini Bull Semen? [read more="Read_more" less="Read_less"] Below the picture of each mini bull is a PayPal Buy Now Button. Clicking on it, you will be redirected to PayPal for secure payment options. You can buy using a Credit Card or your PayPal account. Alternatively, we gladly accept gold, silver, bit coin, or your personal check: just contact us with your offer.
[/read]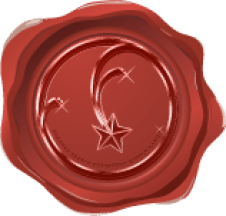 We have a very specific selection criteria, in Miniature Hereford, Red Angus, Mini Jersey and Normande Sires. Because we have stringent breeding standards , our customers have worked the resultant genetics into every kind of interest – from the gourmet beef, petting zoo in Chicago, tax advantaged property taxes, 4-H shows, pets for grandchildren; well just about everything.
After 2 decades of helping in mini cattle selection, we know the differences between the types of audiences and are sensitive in searching for a range of genetically sound breeding bulls. We assertively "fact find" so we can match needs and desires to individual breedings.
Below, you'll find a few of our favorite bulls to work with for Artificial Insemination. By working with us , you can experience the kind of cattle herd growth that will make you smile and your friends and family say wow!
If you still question our Herd Sires being the best, feel free to read some of our customers' testimonials, and hey, give us a call to talk about it. We love to talk about mini cattle.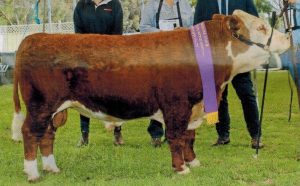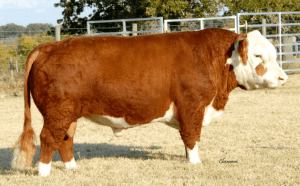 He is dual registered in New Zealand, Australia and America. [read more="Read more" less="Read less"]
At the Falster Farm and mini cattle ranch Spring Round-Up, Miniature Bull and Herd Sire KNF GENERAL STAN WATIE measured 43″ at his hip bone. Calved May 26th, 2005, he was perhaps the smallest framed Miniature Registered Polled Hereford in the world.
Stan is living up to our every expectation for a Herd Sire and then some. His 2008 calf crop produced 100% female polled mini calves and each subsequent year has seen in the area of 65% heifer calves.
This mini bull is providing the polled genetics we, and many customers around the world are seeking to add to foundation herds.
In the Fall of 2008 New Zealanders collected this mini bulls semen under the strictest of international protocol, producing certified frozen semen for Export to almost anywhere in the world. We have Certified Export quality frozen mini bull semen available so you can fix these fabulous genes in your herd.
[/read]

963+ Straws available – available for export
Frozen Semen – $50 per Straw – no minimum
KNF GENERAL STAN WAITE
_____________________________________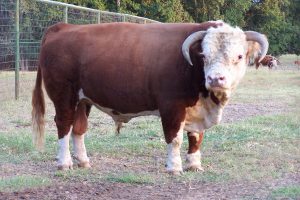 _____________________________________
This is "absolutedly the most heifer makenest" mini Hereford bull we have ever seen. Better than 87% of his get are female in the 30# birth weight range with such gentle dispositions. This mini bull was a special animal. Luther's disposition was friendly and respectful. [read more="Read_more" less="Read_less"]
He was gentle but assertive with females. Several of our neighbors rented him to gentle and downsize their herds. We have 8 generations of his get and much to our delight Luther has been very successful in down-sizing his prodigy and producing mostly females for us and our customers. Ask about his Embryo Transplant calves.)
Yes, he gives us mostly females, and very nice ones. One was a $10,000 heifer! He produces light "birth weight" calves, around 30 lbs. MB MARTIN LUTHER is a proven heifer producing bull!
He was selected and sold for these traits to a breeder in the Houston area several years ago. did a great job for him and then passed away peacefully.[/read] We retained full semen rights; and, have only a few straws of his semen available.
Only 42 Straws available – not for export
Mini Bull Semen – $100 per Straw – no minimum

_____________________________________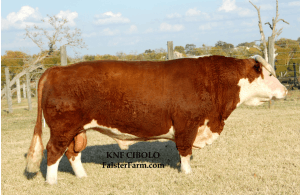 KNF CIBOLO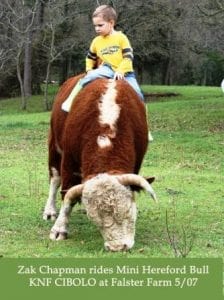 _____________________________________
Cibolo is one of the Old Breed bulls because of his lowline high volume, body depth and muscle
Raised and maintained on grass alone sound economics. Docile, even lovable.
Cibolo was one of two bulls in the USA selected to establish new blood lines in New Zealand, Australia, Thailand and the Philippeans.
He stands 45″ at the hip yet weighs 1100 lbs
Genetically predisposed to gentleness and he passes that gene on to his offspring consistently. [read more="Read_more" less="Read_less"] I'm thinking that young ZAK (the bull rider here) was 5 years old when he and his family came to look over Falster Farm's mini Bulls and Mini Cows; he is astride our fabulous horned herd sire KNF CIBOLO.
This pure bred mini bull was calved March 6th 2003; has the best disposition we have ever experienced. More than one visitor has hopped on his back for a short ride! He is an excellent working herd sire, when I need him for stud service, I just call his name and he comes for the halter.
Cibolo is out of the finest mama cow we have at Falster Farm. His sire, Dagmar was considered by many as the best looking Miniature Registered Hereford Bull in Texas. 2006 saw Cibolo's first calves on the ground. The first was a bull calf that is the spitting image of himself and sold for $5,500. Now, that's breeding. He is dual registered in New Zealand, Australia and America. [/read]
369 Straws available – available for export
Mini Bull Semen – $50 per Straw – no minimum
KNF CIBOLO
_____________________________________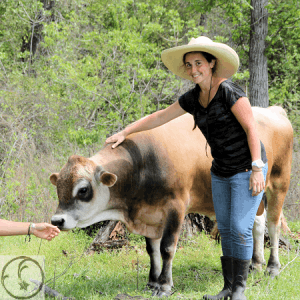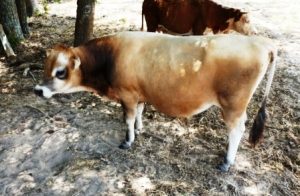 _____________________________________
KNF ORLANDO BENNETT
Mini Bull Semen – $25 per straw
Full Blood Mini Jersey Bull registered with the American Mini Jersey Association.
He has lovely coloring, a calm and gentle disposition. He measured 36.5″ at the hip at one year of age. He was sold to an organic dairy in Colorado. His excellent quality semen is not for Export.
639 Straws available – Not available for export
Frozen Semen – $27 per Straw – no minimum
KNF ORLANDO BENNETT
At approximately 4pm today Champion farms was blessed with a little addition to its ranks. The baby calf is nursing well and appears to be in excellent health. 90% certain we are looking at a little girl, either way it's a blessing to see all of them hit the ground healthy and without assistance. Cibolo's semen is indeed making a Champion herd here. Thank's for your advice and for selling to us.
Keith – Georgetown, Texas
I don't know if you remember me, but I had purchased General Stan Waite semen in 2013.
"Smalls" is now 15 months old and my granddaughter showed him at San Antonio Stock show this year in the steer class.
I just wanted to thank you for helping me and talking to me when I needed advise.
[read more="Read_more" less="Read_less"] We did not do very good because of how his age fell, he was showing against steers that were almost 8 months older than him. He weighted 645 lbs and he was showing against 900 lbs steers. But was very proud of how he and my granddaughter did. WE had a lot of fun. We can show him next year, so we are planning on going to San Antonio and Houston Stock show next year. We are also planning on showing him at State Fair of Texas.
He has been a lot of fun for my granddaughter to show. I have attached some pictures of "Smalls" for you to look at.
What I was e-mail about was to see if you had a young heifer or older cow to sell. [/read]
Vicky D – Austin, Texas
Come see us, or let's "dine and discuss" about your special situation.
Not everyone has a big spread. We can demonstrate how to enjoy the country life on a tax advantaged basis . . . after a Q&A walk around consultation, then relaxing at our table for discussion and a farmstead gourmet meal. We love to walk and talk about the healty life style.