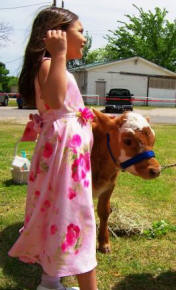 Pet Mini Cow STUART LITTLE
Well, perhaps not a house pet, but an absolutely beautiful and charming mini cow, just for your needs. From year to year we have a bull calf or heifer that is not cut out for our breeding stock program, but have all the attributes that any pet owner could want:
" Grancy, MOO MOO and me are growing up together."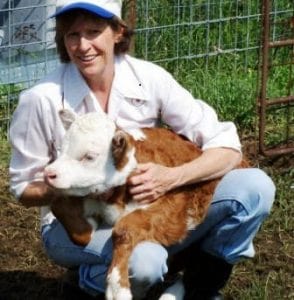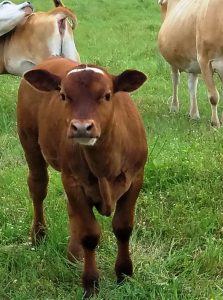 Currently Available:
Pet Mini Cow:
Dixie Boy:
Dixie Boy, is a very small steer, one of the smallest we have produced.
He was only 25# at birth and yet a real stem-winder of activity. He has an attractive white crown on his forehead.
He is available for 1,800, in September 2021.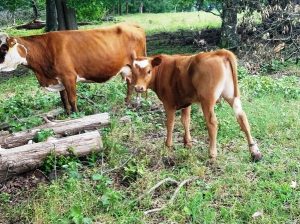 Currently Available:
Johnny Reb
Johnny Reb is a handsome, little fella. A Pet Mini Cow, he has a golden pelt and winsome ways. His birth weight was 35# – born to the 13 year old Recip cow MERCY. He is available for 1,800 , in September 2021.
Many of our Miniature Registered Herefords are purchased for pets – mini cattle so small and docile that they are safe for supervised children to be around. They can have life spans of upwards to 18 years. They can be purchased from us as they become available. Contact Us now for Pet Mini Cows availability.
Every year we have male calves that are not selected for breeding stock. Yes we have a stringent selection process, and that's why our breeding stock is sought after world-wide. These calves are neutered and sold as Pet Mini Cows. The full vita of each Pet cow is available just like the registered stock. These calves are halter broke( walk with halter) and friendly, we consider them excellent for therapeutic value.
Don't make yourself a stranger:
If you're looking for a Pet Mini Cow for a backyard pet, Petting Zoo, or a mini steer to ride, let's talk about Falster Farm genetics: no order is to to large or too small – you will recieve our fulll attenion and appreciation.

See what our customers are saying about Falster Farm: Testamonials
We have other wonderful mini pet cow candidates, feel free to give us a call. Yes you can get here from there.
Contact Us
Located mid way between Dallas and Shreveport, some 46 miles North of Tyler, Texas. Private Airport Available.
2112 County Road 4778, Winnsboro, TX 75494
Gaining Ag Exemption with Mini Cattle is our Stock and Trade – please come see us, share in our small family farm hospitality.