We don't raise perfect cattle, but we may have the perfect mini cow(s) for you. Be they heirloom Mini Hereford cows or mini heifers, they have guaranteed predictable genetics that together, we can analyse and make sure they are for you. ♥ The "stocking rate" makes it so easy to affordably qualify for Ag Exemption on Property Taxes.
We guarantee our bulls breeding capacity via a Veterinarian Fertility Certificate and your personal inspection. Whether you need Certified Frozen Semen, Buying a Proven or Prospective Herd Sire, Live Cover, or Leasing a Herd Sire, we can make a package work for your specific needs. We are in no rush here and enjoy spending the time necessary to help you make the right decision.
Mini Hereford Bulls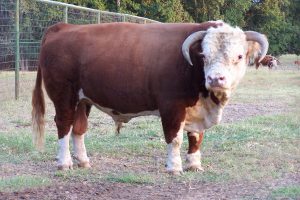 Because of our focus on providing the very best genetics, transparency (detail records on each cow) and Private Treaty Sale Guarantees, you won't find us forcing any Mini Hereford Cattle on you. It is our passion to serve our customer's best interests, preserve the dignity and beauty of the breed, and offer the very best of after-the-sale service. We can answer your questions, today and tomorrow, and we enjoy telling the history of the breed, and our herd development. Mini Hereford Cattle are a big part of our retirement.♥
Mini Hereford Heifers
We offer a variety of ages from a number of different bloodlines. Because we want to match you with the best body "type" for your objectives. When you come to visit, we'll show you several generations of the youngsters you are picking out, so you can see the level of performance you can expect, we'll find the perfect fit for your needs.
Talk to Us
Please call 903-629-3034. We are here Monday thru Friday from 8am CST to 5pm CST and Saturday from 8am CST to 12pm CST.
Review Us
Want to share your experience, good or bad? We are always striving to improve our presentation and welcome all feedback. Please contact us today .