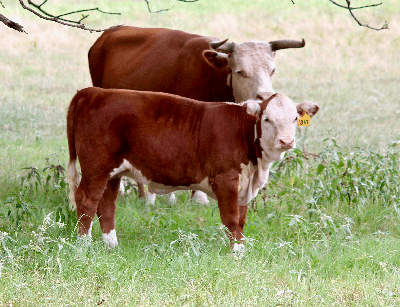 Mini cows for kids: Current as of August 8, 2018
A Perfect Fit
Our yearling calves are a perfect fit for any farming opportunity, be it a commercially successful venture or a hobby that pays for itself. Mini cows for kids? We raise and sell weanlings and yearlings of Mini Hereford, Red Angus, Old World Dairy, and crosses of those pure bred cows. Let me tell you how:
We want to breed to bulls that often times we can't afford to own. Or, to a sire back in the line several generations but is now dead. To do this we artificially inseminate frozen semen. Our success rate is about 80%. After the cows are bred they are placed with a "follow-up" bull to breed those that didn't "take". Those crosses are wonderful, just not expensive registered pure bred stock.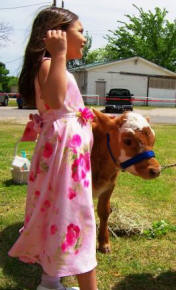 Pet Cow and his Best Friend growing up together.
Our 2018 class of Miniature Cattle calves (about 20 head) are by and large unique from any other we have had. One of our mini bucking bulls (TINY TWISTER) bred one our finest pure bred Registered Mini Hereford Cows (KNF MISS ENID) and gave us the smallest calf we have ever seen . . . and other interesting animals . . . Call Nancy at (903)629-3034) and let her tell you about some.
The calves displayed here are but a sampling of the unique and gorgeous mini Herefords, Jersey and Herseys we have for sale on Falster Farm.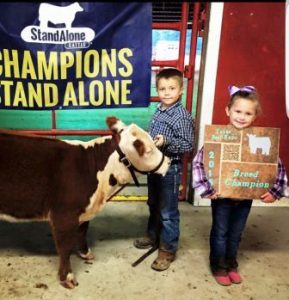 Here's another one, this makes 3 years of success! Karl we really appreciate all the personal attention you have given our family.
M Wallace – Oklahoma
Contact Us
Located mid way between Dallas and Shreveport, some 46 miles North of Tyler, Texas.
2112 County Road 4778, Winnsboro, TX 75494
Gaining Ag Exemption with Mini Hereford Cattle is our Stock and Trade – please come see us, share in our hospitality. Small Family Farm East Texas