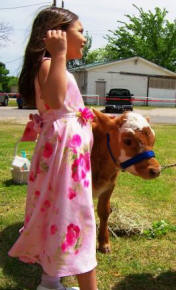 Pet Mini Cow STUART LITTLE
Well, perhaps not a house pet, but an absolutely beautiful and charming mini cow, just for your needs. From year to year we have a bull calf or heifer that is not cut out for our breeding stock program, but have all the attributes that any pet owner could want:
" Grancy, MOO MOO and me are growing up together."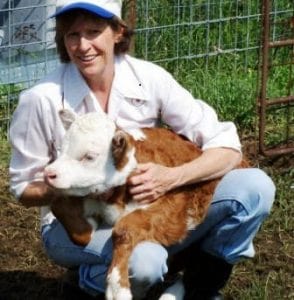 Fluffy cows are basically the cows or adorable calf that has been subjected to primping and pampered into fluffiness. They are show calves and do not belong to any specific breed. They happen to be a product of cross-breeding between two different high-quality breeds done specifically for bovine show-business. Therefore, the owners go out of their way to ensure these cows look their best apart from their generic features and characteristics.
Usually, the owners do a lot of things to take care of them. They break them, train them, feed them, blow-dry them, and put sheen in their hair. Thus, these cows have such a distinctive coat that helps them with cold tolerance. Their double coat of hair is the sole reason why they achieve such a legendary status of fluff. The outer layer contains oily hair, while the undercoat is soft and fluffy
So if you are looking for fluffy cows for sale, we have some of the varieties laid out for you:
These are some of the varieties of fluffy cows for sale you can avail of at our farm.
Currently Available:
Pet Mini Cow:
FRED:
A French Normande and Mini Jersey cross, FRED was calved 26 MAR 2021 heere on Falster Farm. He has some small horns from his mother's side and is a docile about 46″ tall steer. He is a grass fed and finishing youngster.
He was only 25# at birth and yet a real stem-winder of activity. He has an attractive white crown on his forehead.
He is available for 2,200, in November 26, 2022.
Currently Available:
Pet Mini Cow:
BINGO:
KNF BINGO THISTLE K9 is a Full Blood miniature Hereford Pet Mini Cow. He is registerable with the American Hereford Association; and, can will be a Show Winner. He is available for 2,800, in November 2022.
Currently Available:
Pet Mini Cow:
GOLDEN LAD:
Golden Lad K6 is a cross between a small Red Angus and a mini Hereford, calved 11 MAR 22 here on Falster Farm in East Texas.
He is available for 2,200, in November 2022.
Currently Available:
Pet Mini Cow:
GARY'S RED WAGU K4
Mini Pet Steer RA Gary's Wagu K4 is a cross between a small Red Angus and a Red Wagu. He is docile and thrifty. He was calved on 5 JAN 2022.
He is available for 3,200, in November 2022.
Currently Available:
HERSEY MERSEY
Pet Mini Steer HERSEY MERCY calved 31 JUL 2022.. One of the nicest Pet Mini Cows we have on the place. He is small, docile and interested in what's going on. I think he will make a good companion to man or other herd animals.
He is available for 3,200, in November 2022.
Currently Available:
KRIS KRINGLE
Pet Mini A2A2 Bull KRIS KRINGLE calved 24 DEC 2022.. And what a Christmas present he was. One of the nicest Pet Mini Bulls we have ever produced. He is A2A2 Certified Bata Cascine for milk;
Conceived by Artificial Insemination under Jemini, calved under Virgo (both good days.) He is small (about 43″), docile and viral. If you are looking for small A2A2 breeding stock, here he is.
He is available for 5,200, in November 2022.
Many of our Miniature Registered Herefords are purchased for pet mini cows – mini cattle so small and docile that they are safe for supervised children to be around. They can have life spans of upwards to 18 years. They can be purchased from us as they become available. Contact Us now for Pet Mini Cows availability.
Every year we have male calves that are not selected for breeding stock. Yes we have a stringent selection process, and that's why our breeding stock is sought after world-wide. These calves are neutered (unless otherwise indicated) and sold as Pet Mini Cows. The full vita of each Pet mini cow is available just like the registered stock. These calves are easy to halter brake ( walk with halter) and friendly, we consider them excellent for therapeutic value.
Don't make yourself a stranger:
If you're looking for a Pet Mini Cow for a backyard pet, Petting Zoo, or a mini steer to ride, let's talk about Falster Farm genetics: no order is to to large or too small – you will receive our full attention and appreciation.

See what our customers are saying about Falster Farm: Testimonials
We have other wonderful mini pet cow candidates, feel free to give us a call. Yes you can get here from there.
Contact Us
Located mid way between Dallas and Shreveport, some 46 miles North of Tyler, Texas. Private Airport Available.
2112 County Road 4778, Winnsboro, TX 75494
Gaining Ag Exemption with Mini Cattle is our Stock and Trade – please come see us, share in our small family farm hospitality.