Welcome to Falster Farm and a view of our A2A2 milk cows for sale! We are so excited to be Read More
In 2003, Karl learned about how Goat's milk could help offset the pain with his Service Connected Disability from Agent Orange toxification from Viet Nam. Research and hundreds of phone calls lead him (some 10 years later) to the discovery of A2A2 milk cow, and the rare cows that produce it.
So, in 2013 he purchased his first A2A2 cow, the aged Normande A2A2 cow: PIPER.Read More
With Nancy's help on the phone and emails, they made contact with a Read More
Old World Size Dairy Cross DIANNA
Our youngest A2A2 Milk cows are the Spring heifers and bulls. Here we see a cross we made of a Pure Bred Jersey with our imported French Normande A2A2 frozen Semen. She is for sale as a virgin heifer – $3,500.
12/8/17 Spring Heifer of a JERSEY GIRLS raw milk dairy "ANNA 430" x A2A2 French Normande "CAMEMBERT". She is Certified A2A2 by Texas A&M. Brindle colored pelt, very feminine. Stands 45″ at the hip. Excellent.
On 3/9/18 her mother died, so I put her on supplements – she is strong on grass, learning from Shotzie & Puffy.
_______________________________________________________
Mini Size French Normande A2A2
BONNIE BRIE is an A2A2 French Normande Embryo Transplants (ET)
She was were born 12 SEP 17 from an embryo carried by recip cow SHOTZIE. Her Mid-Size is proof that the quality and size of the recip cow will have a major influence on the phenotype of the offspring.
Mini Size French Normande Cross A2A2 PIPERS PRINCESS is an 3/4 (A2A2) French Normande. Daughter of our original A2A2 cow PIPER who is 1/2 Gurnsey.
PRINCESS was were born 1 OCT 14 from an A2A2 Normandie sire HONOR ABLE. Her Mid-Size makes her easy to breed and easy to milk by hand or machine. She is an excellent mama cow.
_______________________________________________________
Miniature Jersey Cows just don't get any more feminine looking that our little PUFFY BLOW FISH. She qualifies for the American Miniature Jersey Record Book. However, she is not A2A2.
She is a 2nd time mama that we can breed her back with the French Normande frozen semen HYLASIS, a rare mid sized A2A2 French Bull. She is very feminine, halter broke, trained to milk by hand and Surge Milker. Our "Current Notes" read:
7/27/18 Saw her bulling in the morning, around 17:00 I got time to give her a straw of HYLASIS. Inside, she was very firm and wet, straw went right home.
4/27/18 I have been milking her twice a day followed up by nursing DIANNA. She has responded well to milk training and staking out on the roadside.
4/21/18 Gave her 4ml of Long Range & Multi Min. (Dewormer & Liquid Minerals.)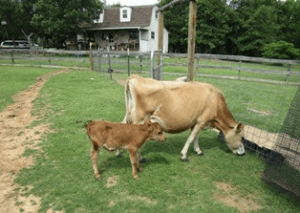 Mini Jersey KNF PUFFY BLOWFISH
_______________________________________________________
A2A2 Yearling Bull – PRINCE LONG SHANKS
NOTES:
9 AUG 2018 – Texas A&M testing reports Homozygous A2A2
30 JUL 18 – 42″ Hip Height, Excellent Scrotum size and displacement.
31 AUG 2017 – Calved no assistance, small head circumference, good vigor. Son of Jersey Girl Jersey Cow. Been in the Near South Pasture since birth. Very friendly.
FOR SALE – $4,000.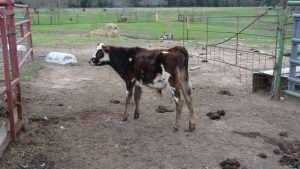 _______________________________________________________
Mid Size A2A2 milk cows for sale –
BREDA – FREDA – PIPER'S PRINCESS
We hope you can see that we have a good selection of A2A2 Cows for Sale.
Please free to call Nancy 903.629.3034 and set an appointment to come see them, and allow us to extend our Southern Hospitality.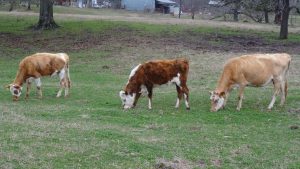 Contact Us
Contact Us
Located mid way between Dallas and Shreveport, some 46 miles North of Tyler, Texas.
2112 County Road 4778, Winnsboro, TX 75494
Gaining Ag Exemption with Mini A2A2 Milk Cows is our Stock and Trade – please come see us, share in our hospitality. Small Family Farm East Texas.